At ServiceFirst Restoration, we are professionals with years of experience dealing with catastrophe large and small. As the world continues to cope with the COVID-19 pandemic we vow to do our part in reducing its spread. We provide professional COVID-19 cleaning services to all Orange County. Give us a call or send us an email. We will get through this together.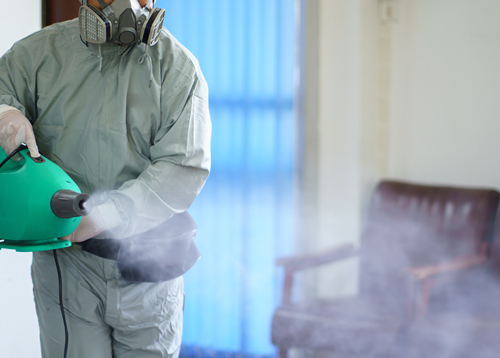 COVID-19 Cleaning Process
It is believed that the Coronavirus can survive on surfaces for many days. Our cleaning processes are designed to coincide with the Centers for Disease Control and Prevention (CDC) recommendations to reduce the spread of COVID-19
All non-porous surfaces will be thoroughly treated with green EPA-registered disinfectant, approved for use against COVID-19

We are experts in dealing with Bio-Hazard situations and take every precaution to protect you. During the cleaning process, all technicians wear heavy-duty disposable coveralls with zipper front, attached hood and boots with elastic wrists as well as heavy-duty puncture-resistant vinyl, latex, or nitrile G40 gloves, and N-95 NIOSH approved masks

.
Non-Contact Surface Cleaning Option
All surfaces will be treated with an EPA-registered disinfectant, approved for use against COVID-19. The treatment will be applied through the use of an electrostatic sprayer.
Hand Cleaning Option
This option involves the hand cleaning and disinfection of all non-porous materials. This includes hand cleaning of all "high touch" surfaces and items such as office furniture, appliances, outlet covers, and small electronics with an EPA registered disinfectant, approved to use against COVID-19.