Professional Trauma Scene Cleanup, Call Today!

Trauma Scene Cleanup

Dealing with a fire or smoke damage repair disaster? Our 24 hour 7 days a week fast response teams can be there within the hour with emergency smoke and odor removal services, long before those odors have a chance to become permanent. It's a time-critical part of fire restoration. And smoke removal isn't just about odor control. Smoke and soot also contain hundreds of compounds that are toxic and corrosive, staining textiles and other porous materials and even corroding metals and the insides of electronics. Attempting to clean things up yourself exposes you to those toxins and can permanently set stains, and there's bound to be countless details that you don't even know about.
Besides smoke (including cigarette odor), sewage, mold, food, cigarette, and pet odors seems to reach everywhere and stay forever. Whatever the cause, our experts will track it down and remove the source, then safely and 100% completely neutralize those odors. We'll work with your insurance company and bill them directly, for a few less things for you to worry about. We're also experts in fire damage restoration, water damage restoration, and mold remediation so we're your one-stop solution for home and business building disasters.
With all critical work performed by technicians certified by the IICRC (Institute of Inspection Cleaning and Restoration, www.iicrc.org) and the CRA (Cleaning and Restoration Association, http://www.crassociation.org/) in their respective specialties we provide a comprehensive warranty. We back our crews with ongoing training and state of the art equipment.
Licensed, Uniformed Expert Technicians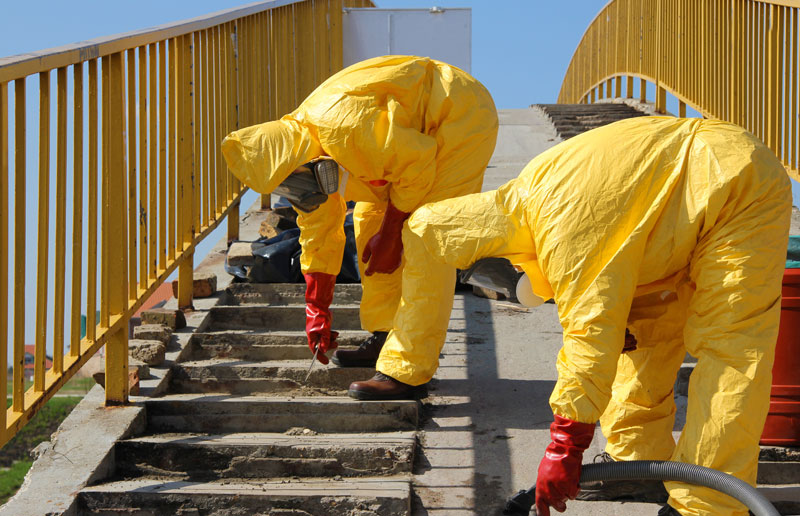 Bio-hazard Remediation

Our experts know that the first priority is biohazard cleanup and disinfection.  There are a variety of disease vectors (potentially infectious materials) such as blood and other bodily fluids that require specialized sanitation.  Their treatment is regulated.  We provide complete decontamination and disinfection, and use licensed medical waste transportation and disposal companies as required.
Odor Control

Our experts will safely and completely neutralize all odors, whatever the source.  In addition to thorough surface cleaning our ozone treatment reaches throughout the building and deeply into the structure.
We Can Help Get Everything Back To Normal

Cleaning & Restoration

Beyond staining and discoloration, microscopic traces still pose a health hazard so we apply exceptionally thorough techniques.  For example blood cleanup addresses carpeting, mattresses, behind baseboards, and so on.  Crime scene cleaning must address fingerprint powder and other investigative chemicals.  There may also be fire extinguisher, pepper spray, and tear gas residue requiring specialized treatments.
Our training, experience, and certifications cover a variety treatments for building surfaces as well as immersion-, dry-, and ultrasonic-cleaning for its contents.  As general contractors we can take care of all repairs and restoration such as carpet, cabinet, and countertop replacement, as well as drywall and wood work repair, and painting.  Our staff of trauma scene clean up professionals will remove all signs of the event so that there will be no painful reminders.