Got Sewage Damage? We Can Help! Call Now

Sewer Damage Cleanup & Restoration

Do you have a toilet overflow or sewage backup?  The problem goes way beyond the smell and yuck factor, posing very serious health risks.  It's a unique cleaning and restoration problem requiring very specific procedures.  When it comes to anti-microbial remediation, training and experience are vital.  As is taking immediate action to end the health risk and guard against the need for water damage removal and mold damage remediation.
As just one example, there was an incident in Laguna Beach where the main sewer line backed up into several homes.  Service First was the only company responding that took all of the proper health and safety precautions.  Others spread pathogens by using fans.  You need way more than a plumber or housecleaning service!  Sewer damage restoration also involves other specialties such as water damage restoration, mold remediation, and odor removal.  It really pays to hire a full-service cleaning and restoration contractor to mitigate against further problems.
Choose Service First

We're on call 24 hours a day 7 days a week for immediate response.  We can be there in an hour or less with a certified inspector and crew ready to begin work.
Our company has an experienced and highly trained team of technicians certified by the Institute of Inspection Cleaning and Restoration (IICRC) and the Cleaning and Restoration Association (CRA) in the full range of fire, water, and mold restoration services, including certified anti-microbial specialists.  We also maintain an inventory of the latest equipment for the fastest and best results.  Family owned, quality and professionalism are our watchwords and we provide a comprehensive warranty.  We're bonded as well as fully licensed and insured for residential and commercial work.  Our staff will directly bill your insurance so that there's often no up-front payment for you to deal with.
Licensed, Uniformed Expert Technicians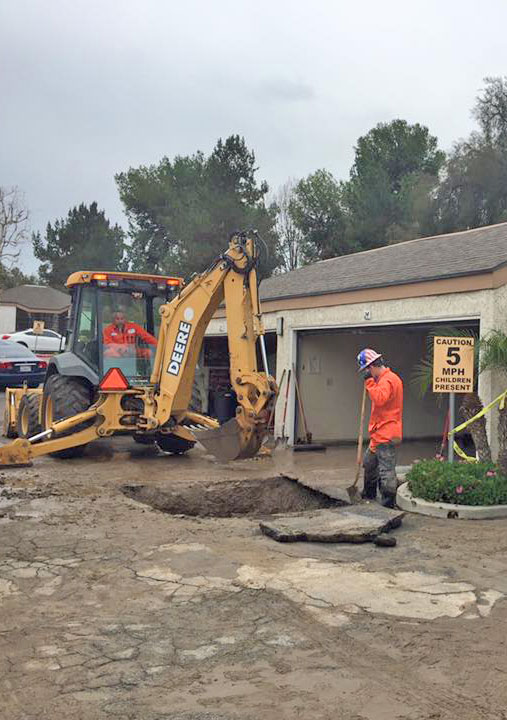 Levels Of Contamination
As sewer damage restoration professionals we follow the classification and treatment guidelines of the IICRC (www.iicrc.com).  Each category degrades into the next worse, as pathogens have time to grow, often in as little as 24 hours.
Category 3 (Black) Although it can be other colors, it is highly unsanitary.  Resulting from toilet overflows, sewer backups, and natural flooding there are over a hundred types of disease-causing organism commonly found, such as bacteria and viruses  (E. coli, salmonella, hepatitis, rotavirus, and others) along with various species of fungi and parasites.  Despite carrying deadly diseases it may appear clear might not be smelly.
Category 2 (Gray) This category comes from relatively clean sources that nevertheless provide nutrients that lead to quick biohazard growth.  Sources include washing machines and dish washers.
Category 1 (Clean) Direct from plumbing or rainfall, this category will eventually become contaminated after contact with the ground or everyday materials.
Toilet Overflows
Toilet overflows can be of any category, although they rarely involve only clean water.  A urine-only overflow is Category 2, calling for careful but not extreme cleanup measures and precautions.  Anything involving feces or a sewer backup is Category 3 and requires extreme caution and specialist services.  It may be tempting (if that's the right word) to tackle the problem yourself with rubber gloves and bleach.  But water and pathogens make their way into every crevice and through the tiniest of cracks almost immediately, and disease organisms also become airborne.  So there's simply too much risk, both to yourself and to the possibility of an incomplete job.
Sewer Backup? 60 Minutes Response Time

Sewage Removal & Sanitization

Sewer backup cleanup should only be performed by workers wearing personal protective equipment.  And they must be properly trained and certified for everyone's protection.  Here's the basic process we follow.
Locate and eliminate the contamination source.
Isolate the affected area with plastic sheeting and set up HEPA air filtration for microorganisms.
Remove or treat all building materials that came in contact with contaminated water through sanding, HEPA vacuuming, and other methods.
Disinfection through a variety of means.
Independent testing to confirm that everything's clean and safe.
Sewage Damage Restoration

Sewage backups typically come into floor, shower, tub drains as well as toilets and often with a great deal of water.  If that's the case our water damage restoration experts prevent additional damage.
Water Damage Removal By thoroughly extracting all water and in some cases providing structural drying for the entire building we avoid water damage such as crumbling drywall, cupped hardwood flooring, and crumbling drywall.
Sewage and Mold Mold can become a big problem in as little as 24 hours, and our licensed mold removal experts are ready to take care of it.
Odor Control  Even the most thorough of sewer damage cleanup can leave lingering odors.  As a full-service cleaning and restoration company we have ozone generators for complete odor removal.  The eco-friendly gas reaches everywhere, even inside walls, and breaks down odor compounds before breaking down itself into simple water.  In addition to neutralizing odors, our thermal foggers can restore a natural scent.