NEED FIRE DAMAGE SERVICES? CALL NOW!

Orange County's Trusted Fire Damage Company
Whether a small kitchen fire or a devastating blaze you need to take immediate action before there's further destruction to the building and further loss of personal belongings.  Expert fire damage restoration minimizes permanent smoke damage and may need to include water damage restoration to avoid the need for mold remediation and deteriorating carpet, wood, and drywall.  Our complete fire restoration services begin with securing the building and continue on through fire odor removal and complete damage reconstruction, clean up, and haul away.  Our experts in contents restoration will take care of your furniture, rugs, and other possessions for maximum recovery.
Looking over the devastation you're no doubt morning the loss and are likely feeling overwhelmed with the many things that need to be done.  But the first 1 to 2 days are critical in mitigating against further destruction so you need to take action.  We're a single company that can take care of everything.
Call us anytime 24/7 for an immediate emergency response.  We'll be there within an hour, ready to get your life back to normal as soon as possible.
Choose Service First Restoration
We're the area's fire restoration pros.  Family owned, our focus is on technical excellence and the best in customer care.  We provide a comprehensive warranty and directly bill your insurance so there's no up-front payment and long wait for reimbursement.
Our inspectors and technicians are highly trained and certified by CRA and IICRC We back them up by maintaining an arsenal of specialized smoke and odor removal and structural drying equipment.  And our repair and damage reconstruction crews are exceptionally skilled.
60 MINUTES RESPONSE TIME CALL NOW!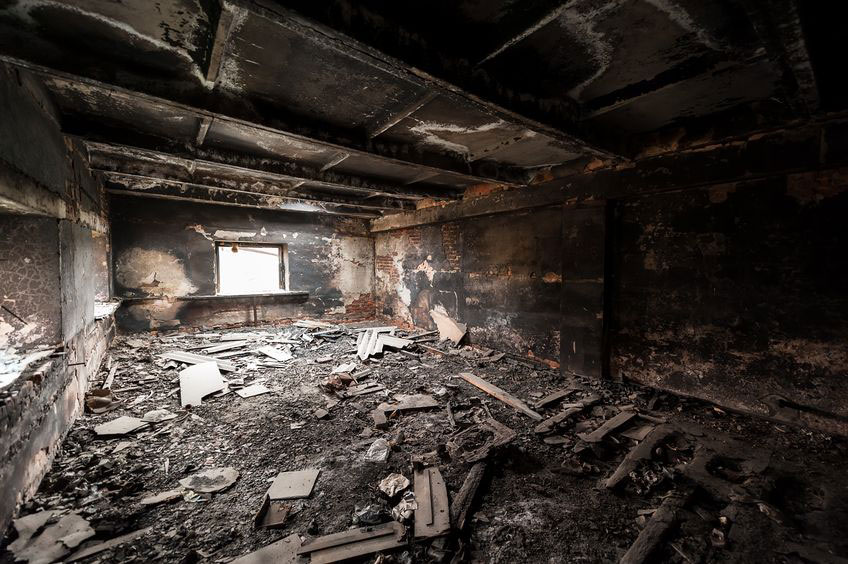 Fire Damage Restoration
We're a full-service fire damage restoration company.  One of our certified inspectors can be there within an hour, 24/7, to assess safety as well as fire & water issues.  We'll take care of board up and tarp over needs, debris removal, and reinforce the building to make it structurally sound.  In all likelihood smoke, soot, ash, and water will be wide spread, calling for our specialized fire odor removal and restoration equipment and procedures.  As a fully licensed and insured general contractor we can handle all repairs, up to and including complete reconstruction of destroyed sections of the building.
PROFESSIONAL SMOKE & ODOR REMOVAL

Smoke and Odor Removal
Smoke and soot can reach just about anywhere, including inside walls that seem unharmed and within duct work.  Smoke damage even makes its way into appliances, computers, stereos, and other home and business electronics.  It's acidic, corroding metals and staining just about anything porous if not removed immediately with specialized cleaning solutions and techniques.  Immediate fire odor removal is also critical, as odor-causing compounds quickly penetrate so deeply that they're no longer removable.  The wrong procedures can simply force it in deeper.  Our specialized odor-blasting equipment takes care of building surfaces, and our ozone generators reach inside every nook and cranny to neutralize odors.
Water Restoration
Besides direct destruction there's probably water from a business' sprinkler system or the fire-fighter's efforts.  If that's the case you'll need our water damage restoration services for mold removal, as well as to mitigate deterioration of as-yet unharmed flooring, drywall, and framing (insurance companies require it!) .
Contents Restoration
Our experts also include technicians certified in contents restoration for smoke damage and other harm.  We're always up to date on the best ways to salvage and restore as many of your possessions as possible.  Clothing and other affected textiles must be sent to the dry cleaners, otherwise stains and odors may set.  We can do that for you if you like.  Along with upholstery cleaning, our specialists will take care of carpet, drapes, electronics, bath and kitchen fixtures, and more.  Our pack out services can take all those possessions out of harm's way for even better treatment under controlled and uncontaminated conditions.  After treatment we'll provide secure storage until we complete building reconstruction and return everything.
Fire Damage Reconstruction
Even a small-scale blaze can lead to major destruction.  Our fire damage repair work covers everything from replacing carpeting to complete reconstruction.  Service First's insurance and professional memberships hold us to higher standards than most general contractors.  Our crews include experienced and skilled craftspeople for everything from flooring to roofing, including window installation, plumbing, electrical, and painting.