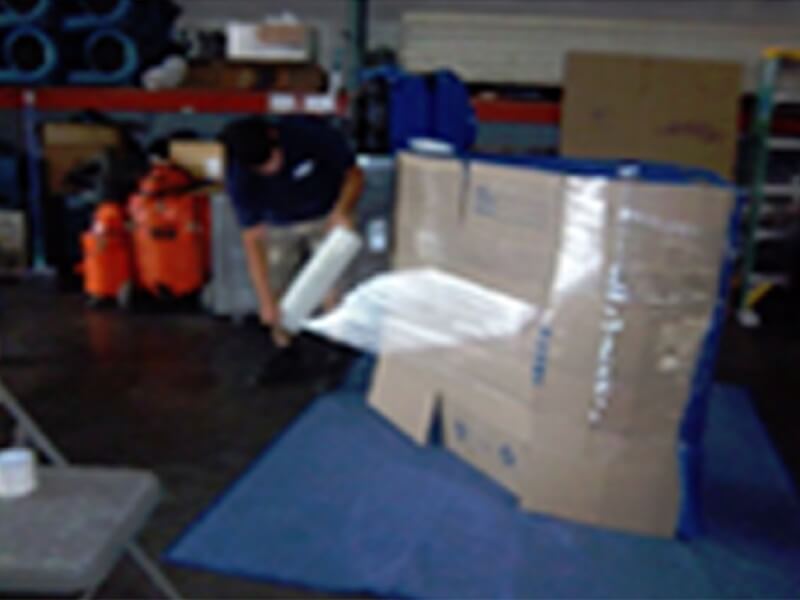 When disaster strikes there's no need to let worrying about what to do next to add to your stress.  Service First will make sure that everything's being taken care of.  Disaster damage can affect just about anything inside your home or business so our 24-hour emergency contents restoration team is always ready.  Not everything can be rescued, but our clients are often surprised by the items of monetary and personal value we're able to save.  You can count on us for the best in contents cleaning and restoration services.
Contents Restoration Services
Our contents restoration team are trained and certified in cleaning and restoration after fires, floods, sewage backups, and water damage.  The many items that can often be restored include the following.
artwork such as paintings and sculpture
books
clothing, drapes, and rugs
digital media and VHS tapes
documents such as photos, legal records, and medical records
electronics and appliances, including TVs, DVD players, computers, and stereos
furniture
jewelry
Fire Damage Restoration
Fire damage goes beyond direct destruction by flame and heat.  Smoke and soot deposits range from a fine powder to thick sludge to a lacquer-like hard coating.  They contain hundreds of harmful chemical compounds that can penetrate deeply into porous materials.  Only technicians with extensive training can choose the right procedures to prevent permanent staining, long-lasting odors, corrosion, and mold without further damaging your possessions.
Water Damage Restoration
Whether from plumbing, natural flood, or firefighting water quickly leads to secondary damage.  Time-critical services include emergency water removal, accelerated drying, and cleaning & infection control.  Commercial water damage restoration adds inventory, business records, displays, registers, and other equipment to the list of contents needing attention.
Pack Out and Inventory
Typically, the first step in content restoration is pack out which is removing possessions from a contaminated environment to another location for treatment and secure climate-controlled storage.  That's usually safer, faster, and more cost-effect than treating belongings on-site.  Pack out services include careful preparation and packing, transport, treatment, storage, and return.
For the best results — economically recovering as many items as possible — it's important to follow approved standards and industry best practices as set by independent organizations such as ANSI,  IICRC, RIA, and CRC.
Traditional cleaning and restoration techniques are now supplemented by new technologies for faster and more thorough cleaning and disinfection.  Common treatments range from simple hand-cleaning with the proper neutralizing agents or detergents to advanced drying techniques and include
abrasive cleaning,
air drying,
dry cleaning,
drying chambers,
foam cleaning,
freezer drying
immersion cleaning,
ozone and thermal deodorization,
pressure washing,
soda blasting,
spotting,
spray and wipe,
ultrasonic cleaning,
vacuum freeze drying,
vacuum thermal drying, and
wet-laundering.
It takes a lot of training and experience to make the right selection for each and every item given all those options!
Throughout the pack out process, it's important to keep track of everything.  That means contents claim inventory services.  Room by room, item by item everything is ID tagged, photographed, and entered into a tracking system.  That's part of the insurance claim's proof of loss as well as processing or disposition documentation.  It also provides you the peace of mind that comes from knowing that everything's accounted for, where it is, and what condition it's in.