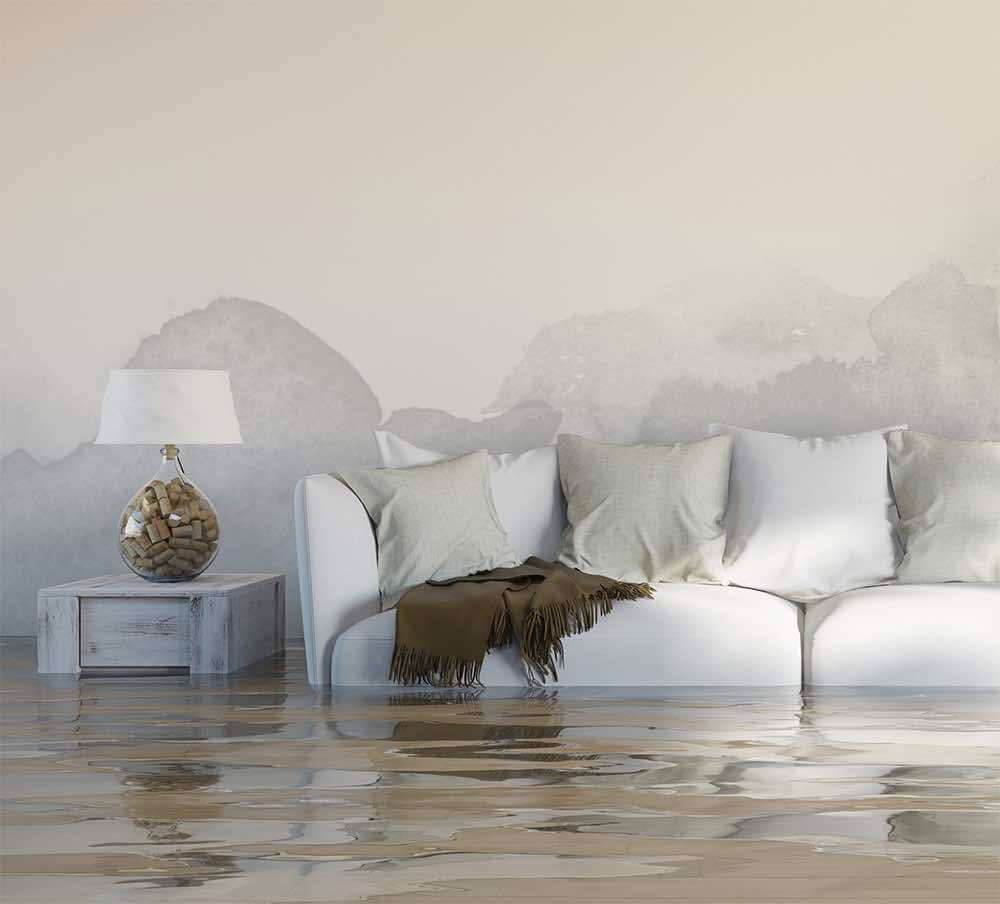 Does your regular homeowner insurance policy cover water damage?  That depends on the source of the water.  That's because insurance companies assess the risks of natural flooding disasters differently than they do that of failed plumbing and similar problems in your home.
Homeowner's Policies
Insurance companies make a big distinction based on the source of the water — was it within your property (what homeowner's policies are intended for) or did it come from outside your property.
Conditions Probably Covered
That said, water damage restoration costs for sudden or accidental problems should be reimbursed.  Common examples include a ruptured water heater, a burst washing machine hose, a failed dishwasher, or a burst upstairs pipe.
Damage Covered
So what flood damage costs are typically paid for by insurance?  Drying and clean up services, repairs to pre-loss condition, and replacements.  Pretty much every insurance company spells these out in the policy, grouping water damage restoration and repair services into three categories.
Dwelling coverage such as repairing drywall and carpet cleaning or replacement.  Homeowners insurance should also apply to services such as structural drying that prevent secondary damage.
Personal property coverage for belongings such as furniture and home electronics.
Additional living expenses such as a brief hotel stay.
But don't expect everything to be completely paid for by insurance.  You must pay up to the amount of the deductible yourself, and your policy will set a limit on the total amount the insurance will pay out.  And insurance won't pay for the costs of correcting the original problem, such as a replacement water heater, a new dishwasher, or a plumbing repair.  They're covering your home and possessions, not guaranteeing products and services!
Some Exceptions
As part of the "sudden or accidental" requirement homeowner's policies won't cover water damage that results from poor maintenance such as ignoring a slow plumbing leak or not fixing a leaky toilet.  Exceptions also commonly exclude various cases of ordinary wear and tear.
Standard policies also exclude water damage restoration costs resulting from outside sewer backups, although you can purchase additional coverage (a "rider") for this.
Standard policies specifically exclude mold unless it was the direct result of an incident that was covered.  A water damage claim may also be denied if there wasn't proper mitigation immediately after a major incident.
Flood Insurance
Standard policies simply don't cover natural flooding.  Specific flood insurance policies are necessary for water damage from locally heavy rain or saturated ground as well as overflowing creeks, lakes, and so on.  Ocean storm surges are also only covered by flood insurance.  You can get such coverage from the National Flood Insurance Program through your insurer.