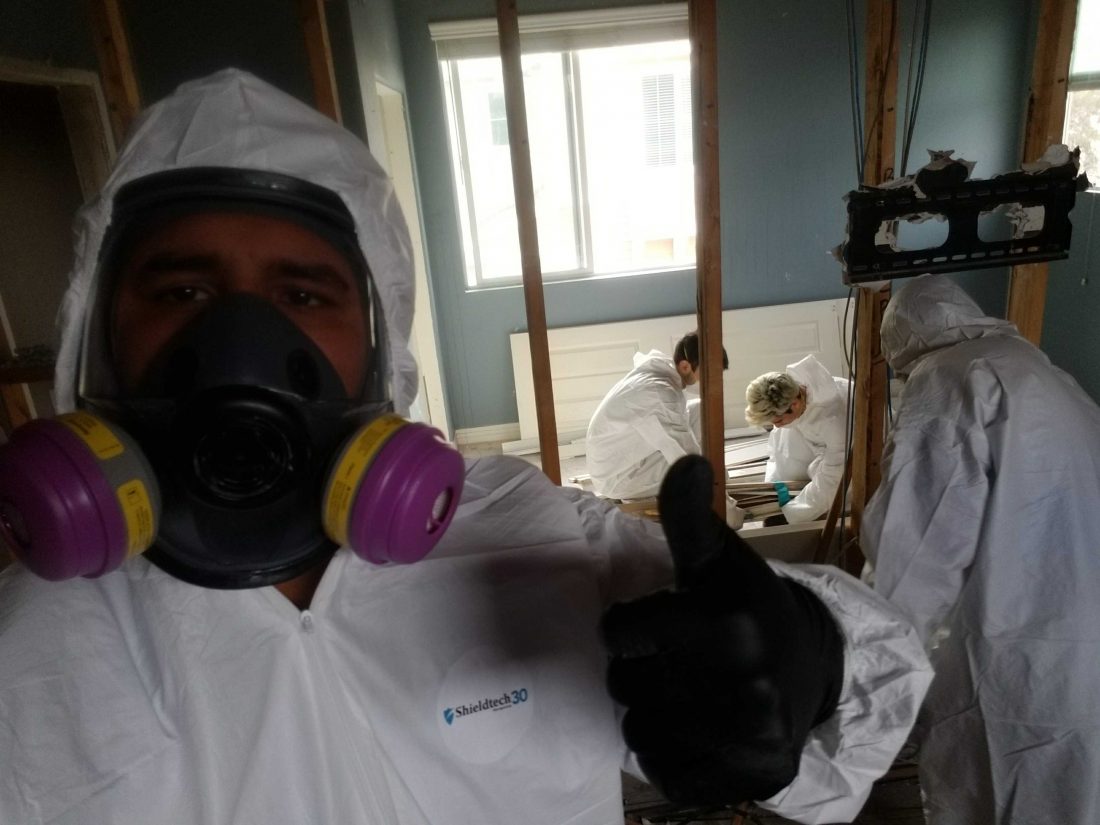 Our special training, years of experience, and ongoing education make us uniquely qualified as cleaning and disinfection professionals during this unique time.
From water damage restoration and mold removal to trauma scene cleanup, we know what needs to be done and exactly how to do it.  Our biohazard remediation technicians are IICRC certified (IICRC is the leading world-wide leader in cleaning and restoration certification), and fully versed in guidelines and regulations from OSHA (Occupational Safety and Health Administration), the EPA (Environmental Protection Agency), the CDC (Centers for Disease Control), and local regulations.
Our specialists have been using personal protective equipment (PPE) for years, together with EPA registered products and IICRC procedures.  And they're ready for immediate action — 24 hour emergency responses are routine for us.
Decontamination of the "Ordinary"
Flooding is a more common and more serious health hazard than you might think.
Despite coming from a clean source, lingering water from a plumbing or appliance failure becomes filled with bacteria, mold, and fungi within just a couple of days.  It then has to be treated as hazardous as raw sewage.  You probably know that lingering moisture often leads to mold, and its release of spores and other allergens and perhaps even toxins.  It also leads to bacterial growth, the source of any unpleasant odors.  So our water damage crews are experts in absolutely thorough cleaning and disinfection procedures.  And they have all the specialized equipment and non-consumer products for fast and effective results dealing with
air conditioning duct-work,
blinds,
building surfaces — floors, walls, ceilings,
carpets,
drapes,
furniture,
home and business electronics,
upholstery,
and more.
Sewage and Flood Water
Floodwater that's been in contact with the ground is almost immediately filled with a host of microbes and parasites, often combined with pesticides and other chemical contaminants.  And it goes without saying that a raw sewage backup or toilet overflow is a serious disease risk.  It's been shown to contain Corona viruses, although it's not clear if they remain infectious.  So extremely detailed cleaning, disinfecting, and replacing contaminated materials is a must.  Pathogens easily become airborne, so a full range of PPE together with isolating affected areas is also a must.
Dealing with Disease
We're also prepared for the most serious of situations — trauma scene and crime scene cleanup, unattended deaths, injury accidents, and animal infestations.  This sort of "forensic" cleaning goes several levels beyond bleach, using hospital-grade disinfectants together with detailed procedures for keeping everyone safe.
COVID
Science still has much to learn about COVID-19, so no one can really claim to be SARS-CoV-2 experts.  But we are highly-trained experts with years of experience in health-hazard related cleanup services.  That means we're well-prepared for CDC protocols that go way beyond janitorial practices to clean and disinfect porous and non-porous surfaces alike.
To share some basics, it's important to clean and disinfect "high-touch" surfaces every day, as frequently as possible.  These include
bathroom and kitchen fixtures,
countertops, desktops, and tabletops,
doorknobs,
elevator cars,
fitness equipment,
carpets and rugs
keyboards and mice,
laptops,
light-switches,
phones,
playground equipment,
shelving and racks
stair handrails
toilets, and
water fountains.
But this list is far from complete.  If people touch it or work near it, clean it!
For More
Whether for a washing-machine overflow, a sewage backup, or re-opening a business you can count on us to make homes and businesses clean and safe once again.
We've found the following websites to be especially informative, with links to additional pages.