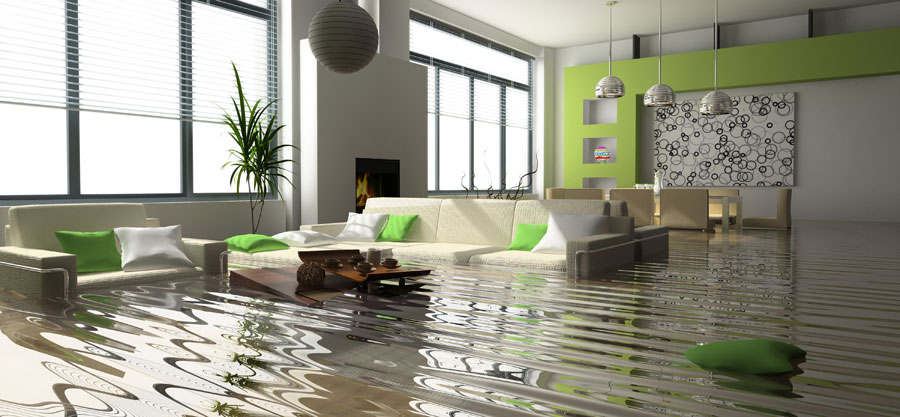 Most people don't give water damage a second thought until there's a mold outbreak, the floor starts to sag right around a leaky toilet, or there are water stains on the ceiling.  But by then there's already a lot of expensive to repair the damage that could have been prevented.
So when should you bring in a water damage specialist?  Always.
Well, not if it's a spilled glass of soda.
But it doesn't take a whole lot more than that to lead to problems.  Several factors come into play, so there's no specific guidance based on the number of gallons or square feet affected.  The IICRC (see below) recommends professional water damage restoration services for anything beyond a small area of wet carpet.  So have a professional assessment if there are any doubts.  You could be saving big time on mold remediation and repair costs.
About Water Damage
Many building materials act like sponges, soaking up enough water in minutes to take weeks to dry out.  Harmful levels of moisture can reach all the way to the innermost structure of the building, including moving upwards by wicking.  Destruction gets going in just a day or two and can continue for weeks and weeks.
Physical destruction occurs because most porous materials swell as they absorb moisture.  Wood warps, buckles, cups, and splits.  Sheetrock and gypsum board sag and crumble.  And so on.
Mold growth can get out of control in as little as 24 hours at indoor temperatures (60-70 deg F).
Bacteria also thrive.  That gives rise to odors, rotting wood, and other decay, and potentially additional health hazards.
Since dampness penetrates into places you can't see and can remain long after surfaces feel dry, all that can be going on without any obvious signs.
Reasons to Call in Restoration Professionals
Inspection and remediation are surprisingly technical.  Doing things right requires a contractor specializing in water damage restoration, not ordinary cleaners, repairmen, or construction crews.  Many people prefer independently owned and operated companies, but the most important factor is highly trained certified technicians.
At the very least, professional water damage restoration services are a sort of insurance to check that everything's OK.  At the other extreme, it can save you tens of thousands of dollars of repair costs.  So here are those top-10 reasons.
Reason Number 10: Your Peace of Mind
It doesn't take standing water to cause extensive destruction.  An expert knows exactly what to look for, how to find hidden problems, and how to assess the extent of the damage.  They'll evaluate your specific situation so you'll know exactly what is and isn't, needed.
Reason Number 9:  No Work For You
Pulling up carpet, removing baseboards, cleaning, disinfecting, and so on are a lot of work.  You're already busy with your job and family — who wants to give up what little free time they have?  Especially when any delay or mistake can have big consequences.
Reason Number 7:  Special Equipment
The key to water damage restoration is rapid drying all the way down to the core of the building.  And that takes high-capacity pumps, water extraction vacuums way more powerful than shop wet vacs or carpet cleaners, high-performance dehumidifiers, high-volume blowers, HEPA vacuums and air filters, and special deodorizing equipment.  Inspections need sensitive leak detection and location instruments as well as meters that can detect moisture well past visible surfaces.
Reason Number 6:  Training, Skill, & Experience
For the best outcome, you need an expert inspection, highly-skilled services, and a staff experienced in working with insurance companies on water claims.  There are countless details in drying, cleaning, and restoration such as when to remove baseboards, when and how to check for damp insulation, and how to use measurements to keep the drying process proceeding as rapidly as possible.  And that takes a team of technicians certified in various specialties including bacterial and mold removal and microbial remediation.  Along with all that, keeping insurance claims proceeding smoothly requires a thorough understanding of loss documentation for proof of damage in claims filing.
Reason Number 8:  Expert Repairs
A lot of people can replace a section of drywall, and some companies will be happy to replace flooring.  But do they know how to assess indications of further damage that they're about to cover up?  That requires a detailed understanding of how dampness migrates and how it affects each and every type of construction material.
Reason Number 5:  Reduces Damage and Costs
Prevention is almost always less expensive than a cure.  Immediate water restoration performed by specialists mitigates against further deterioration.  It's often possible to avoid replacing carpet or even soaked hardwood flooring.  But neglect can lead to major structural damage.  Then the cost of recovery can be crippling if it isn't covered by insurance.
Minimizing damage is time critical.  Even deep-down excess moisture must be eliminated as fast as possible so there's no room for delays or mistakes.  As little as 24 hours can make a difference for carpet, wood floors, and mold growth; 48 hours for drywall and textiles
Reason Number 4:  Your Insurance May Require It
And may pay for it.
Justifiably, insurance companies don't pay for repairing the damage that could have been prevented.  So policies stipulate that certain restoration measures must be performed within certain time limits, and the cost of taking those measures is often covered.  And when those requirements are met anything that does develop should also be covered.  Unless you are familiar with each and every detail it's easy to miss something that results in part of a claim being denied.
Reason Number 3:  Health Risks
Even if you know to shut off the electricity before entering a flooded area there can still be safety hazards from debris and structural damage.  And even minor incidents have or will soon have health hazards.  Water from clean sources (Category 1) soon becomes contaminated.  Category 2 water from dishwashers, clothes washers, and the like start out with bacteria and nutrients.  Ground flooding and sewage (Category 3) is teeming with bacteria, viruses, and fungi.
So mold and floodwater have to be treated with extreme caution and absolutely thorough sanitization.  And that means using fungicides and bactericides not available to general public plus the knowledge to treat areas most people wouldn't even think of.
Reason Number 2:  Rescues More Possessions
In addition to minimizing building damage, water damage specialists can save more of the building's contents.  Besides valuable items such as furniture, appliances, and electronics their expertise and special equipment can rescue priceless items such as family heirlooms, personal treasures, and business records that would otherwise be lost.
And The Number 1 Reason Is…
Getting Your Life Back to Normal Quickly
By acting promptly, working efficiently, and mitigating against further destruction professional water specialists get you back into your regular daily routine as quickly as possible.
Without them, you're likely to need more extensive repairs within a few days, or still be discovering new problems weeks later.  It's quicker and a lot less disruptive to dry a hardwood floor than to replace it!
Discover More
The non-profit  IICRC (Institute of Inspection, Cleaning, and Restoration Certification) is a worldwide leader in the cleaning and restoration industry, professional water damage restoration services in particular.  You can find more details and a few more reasons to hire professional services on these consumer-oriented web pages.
http://www.iicrc.org/how-restoration-company-handles-water-damage-a-325.html
http://www.iicrc.org/always-call-professional-for-flood-restoration-services-a-336.html